You can believe Eddie

 

when he gives you
Tips to Increase Your Overnight Rental Profits
Updated 1/3/2008
A Magic Bullet ~ Pre-paid Check Ins:
<![if !supportLists]>Ø <![endif]>Prepaid reservations!  At least 14 days PRIOR to check in (30 days prior messes with your online bookers and does not have that much more of a beneficial effect over a 14-day prepayment requirement).  If you are not already doing this, you will be amazed at how many issues become moot.
<![if !supportLists]>Ø <![endif]>If folks are going to cancel, they will cancel at the time they have to plunk down the balance of their payment.  This gives you two weeks to re-rent the unit and cuts way down on battling with scheduled guests who want to cancel the day before arrival (because they have only have a small deposit on the line).
<![if !supportLists]>Ø <![endif]>This is a great way to avoid personality conflicts at check-in that can escalate from a small cut to a body bag.
<![if !supportEmptyParas]> <![endif]>
<![if !supportLists]>Ø <![endif]>This business model helps to keep your check-ins from stacking up in your lobby at 4:30 pm on a Friday.  Most pre-paid bookings can be emailed directions and a keycode for a keyless entry, and you can market this as "Express Check-in".  You will be surprised at the number reservations that will fall into this "no muss~ no fuss" booker (especially online bookers) pattern.
Leaking Pennies:
Ø Bill, bill, bill! ~ even when you are just sending two pillows or light bulbs to a unit.  Those pillows add up and if you are not billing the owners back for these types of legitimate expenses, you are losing money. 
Ø Make a work order or ticket or something like that for everything relating to the physical property.  You can decide later if you want to bill the owner, or not ~ at least you didn't forget about it.  As a matter of fact, it's good for your owner relations for them to see a work order on their statement with "No Charge" associated with it.
Ø Think of reasons why you could not accept a check for an advance deposit or a pre-paid balance.  The United States banking laws changed in October 2004 and now only allows a bank two days to clear a check.  Since you don't have to wait 10-15 days anymore to see if the check is good, why not try to collect checks whenever you can to cut way down on credit card fees.  And the added bonus is there are no charge backs with a check.  You can even call the bank when the check arrives to make sure it's good.
Housekeeping Means Everything:
Ø What is the solution to what can be a crippling issue?  Inspection.  Inspect behind your housekeepers.  Hold them accountable.  Pay them well (because, remember, housekeeping is everything) and demand nothing less than excellence.
Marketing and Sales:
Ø To get a true picture of where your advertising dollars are working hardest, it's critical to use viable data.  Impress upon your staff that this is an important enough piece of information to warrant more than a cursory inquiry.
Ø You only need a small ad to advertise your web site. Let it be a workhorse for you, and watch your web traffic statistics HOURLY!
Ø Think of local and semi-local people as a target market all to themselves.  These folks can help you make payroll during off-season times by offering them a Stay 3/Pay for 2 special.  They can't usually stay three whole nights, but hey, you could sell that extra night as an early check in or a very late check out.  "Check out at 6 pm and be home by 8!"  That might sound appealing to the local working people within a two-hour radius.
Ø Offer your "orphan" nights (the one-niters in between a check out and another check in) for a greatly discounted price to both the check out (to give them a late check out) before it and the check in after it (and you sell it to them as an opportunity for an early check in).  Make sure you document that you called or emailed each party and even went so far as to tell each party that you have offered (or are going to offer) that orphan night to each of them.  If the one you speak with first snaps it up, you do not owe it to the other party to give them a chance ~ you are trying to make gravy by selling open nights to an existing reservation.  If one calls back to say they'll take it, you can say it's already rented.
Ø Keep a current and complete list of all sources of your business and post it where reservations are taken.  Train your staff to write the source of each booking somewhere in the reservation paperwork, or on the notes section of a software program. 
Ø You only get to ask them one time how they found you.  Ask your callers how they found your web site.  This will produce much better answers than asking them "how did you hear about us", which produces the vague answer "I found you on the web".  If you ask "how did you find our web site", and they didn't find you on the web, they will tell you how they heard or which advertisement they saw that compelled them to call.  MUCH better results!
<![if !supportLists]>Ø <![endif]>Can you access the internal workings of your website?  If you were mad at your webmaster, could you fire that person and hire another?  If the answer is "No" because you DO NOT HAVE YOUR PASSCODES, then you might as well go buy a car and give the keys to the salesman.  You can call the salesman anytime you need to be driven around in YOUR car.  Yes, this is ridiculous. 
<![if !supportEmptyParas]> <![endif]>
<![if !supportLists]>Ø <![endif]>Look, you don't have to know ANYTHING about how your website works to be the boss of it.  But you do need the passcodes to be the boss of it.  How can you fire a renegade webmaster if you can't change the password and lock him or her out of your business?  DON'T BE BULLIED by technobabble.  You have common sense and you should use it.  You have every right to that vital information. 
<![if !supportEmptyParas]> <![endif]>
<![if !supportLists]>Ø <![endif]>Better yet, get your OWN www.GoDaddy.com account (it's super easy) and hand out the passcodes, YOURSELF, as you see fit.
Trip Insurance:
Ø This is an easy way to reap a profit with very little bookkeeping to suck up that profit.  Your guests are buying trip insurance, and they will buy it from you if you offer it.  Contact a vendor (e.g. http://googlr.com/search?hl=en&lr=&q=%22trip+insurance%22+reseller) to set up an account and start pocketing about $22 for every $1,000 worth of gross sales on which you collect trip insurance (($1,000 x 6.5%) x 35% = $22.75).  Doesn't sound like much?  Go look at your GROSS sales (including taxes) and think of the potential… for filing a report and writing a check once a month.
The Payment Card Industry and You:
Ø Just because you are probably a Level 4 Merchant (not more than 20,000 E-Commerce transactions a year) does not mean that you do not have to comply with the PCI (Payment Card Industry) Standards.  Also, if you are using MC and /or Visa, you are also subject to CISP (Cardholder Information Security Program).   You don't have to burn too many brain cells or spend a bunch of money to comply.  Use your common sense about card number security and seek out ways to protect your information. 
Ø Exceeding 20,000 E-Commerce transactions a year or having an alarming number of charge-backs or security issues ~ could cause you to be asked to pay money to a third-party vendor to validate your PCI and CISP compliance (in order to keep your merchant account).  Visit http://www.reservationsbytcs.com/pci.htm  to help you wade through the alphabet soup.
Ø The 3 or 4 digit security code (CVV or CVV2) is not intended to be stored.  This means you can't write it on a piece of paper in case you need to run the card again at a later date.  You get to enter that security number one time when you are entering that transaction (swiped cards include this number in the swipe).  If you need to run the card again, you should call the cardholder to obtain that security code, again.  Entering that code means the cardholder had the card in his/her hand when you were given the number.  If you ask someone for this number and they do not have it ~ well, guess what… that means they don't have the card in their hands.  You can collect this number during an online booking as long as it's only processed with the card ~ never stored for future use.
Ø The number of credit card vendors is dizzying.  You have a great luxury in the ability to shop for rates and terms.  It's a nasty business ~ one that charges vendors and customers for the privilege of immediately paying/immediately being paid.  But their cutthroat industry is your advantage to squeezing the highest technology out of the fewest pennies.  Don't stop with your bank… they will not advise you of your choices and you will have to find out for yourself.  Get everything you are promised IN WRITING.
<![if !supportLists]>Ø <![endif]>It's important to find a processor who will carry your Hotel status through from the beginning of the transaction until the payment card folks pay it.  Most overnight rental companies are losing the advantage of being treated as a Hotel transaction versus a Retail status.  You have to fight for this because this often breaks down at the cold-hearted processor level (Paymentech, Vital, Novus, etc.)
<![if !supportEmptyParas]> <![endif]>
<![if !supportLists]>Ø <![endif]>The best rule of thumb:  TREAT YOUR CUSTOMERS' CARD DATA AS YOU WOULD WANT YOUR OWN TREATED…  There is a service out there (www.Shift4.com) who will store your data for you, which will make a lot of PCI Compliancy issues moot.
<![if !supportEmptyParas]> <![endif]>
Protect Yourself From Chargebacks (reprinted from educational material from http://www.heartlandpaymentsystems.com/ ; modified for overnight rentals)
<![if !supportEmptyParas]> <![endif]>
<![if !supportLists]>Ø <![endif]>Prior to or when guests check in, have them fill out and sign a registration card/guest agreement.
<![if !supportEmptyParas]> <![endif]>
<![if !supportLists]>Ø <![endif]>Ensure that your staff is well trained in proper procedures for credit card transactions to avoid unnecessary card swipe and processing errors and fees (it costs the same to make a refund as it costs to originally charge the card).
<![if !supportEmptyParas]> <![endif]>
<![if !supportLists]>Ø <![endif]>Always provide guests with a copy of their final bill/receipt by mailing it or emailing it to their home address after their stay.
<![if !supportEmptyParas]> <![endif]>
<![if !supportLists]>Ø <![endif]>Make sure your guests sign their credit card receipts for every card payment you take from them.
<![if !supportEmptyParas]> <![endif]>
<![if !supportLists]>Ø <![endif]>Think of it as documenting every payment card transaction as if it is going to be charged back.  You will need all this information to defend yourself in the event of a disputed legitimate charge (e.g. a "No Show" where you charged the card as a penalty).
Email Everything You Can:
Ø You do not realize the postage and paper savings with this marvel of modern technology! 
Ø Even emailing directions shortly before the arrival of a pre-paid check in can save you time on the phone.
Ø Emailing a "confirmation of a cancellation" can save you time and trouble.  Ask the guest to let you know immediately if the cancellation has been in error.
Owners:
<![if !supportLists]>Ø <![endif]>Owners can be divided into two groups:  1) Investors, and 2) I Am So Emotionally In Love With My Second Home And I Can Only Afford To Pay For It If You Rent It At Least 15 Nights Out Of Every Month.  Investors are a breeze and only care about which couch makes them the most money.  The latter is a different story, especially when the real estate agent's soothing assurances are still fresh in their minds.
<![if !supportEmptyParas]> <![endif]>
<![if !supportLists]>Ø <![endif]>Kick off the riff-raff.  You can't afford the bad feelings and time and labor that it takes to deal with a sub-standard property.  Get rid of your headache units and watch your stress and costs drop like a penny off the Space Needle.
<![if !supportEmptyParas]> <![endif]>
<![if !supportLists]>Ø <![endif]>To the owners of units you deem worthy to be on your program ~ make them understand that you all are in business together. 
Technology is Your Workhorse:
Ø You need to learn enough to keep yourself from being taken advantage of in this confusing realm of E-commerce, which is what you are doing if you are advertising on the Internet, regardless of booking and taking payments online.
Ø Your web site visitors are first and foremost interested in your properties that are available during their vacation days ~ which are USUALLY not flexible!  Make this easy for them to find units open for their specific dates from your home page. 
<![if !supportLists]>Ø <![endif]>Invest in the highest and best technology that you can afford and that makes sense for your working environment.  Always on the go?  Then you're looking at a web server in your office and a laptop in your car.  Working from home in your pajamas, most of the time?  Then you need a web server in your basement or closet, a workstation in your den, and a laptop in your car.
<![if !supportEmptyParas]> <![endif]>
<![if !supportLists]>Ø <![endif]> Why a web server in your office?  1) It's not rocket science ~ anymore; 2) they are cheap ~ now (basic web/file servers begin around $1400); 3) a web server can become the brain of your operation handing out files to your folks in the office, handing out files to your folks working from home, dishing up a web site over which you have total control… just to name a few reasons.   Configured properly, it's a great extra firewall between the Internet and your office staff.  You can also think of it as your employee that doesn't bug you for a raise or have car trouble or call in sick when it's not really sick.
<![if !supportEmptyParas]> <![endif]>
<![if !supportLists]>Ø <![endif]>Reason 4) would be that you will need a file server at a minimum for your critical installed applications (like QuickBooks or Peachtree, and your reservation system, and any other application that depends on critical data).
Ø These are the things you need for a basic office network:  A fast Internet connection, a server, a router, and a workstation.  You might also need a sturdy battery back up for the server and good surge protectors for the workstation(s).  This is a picture of what all that looks like when it's networked:
<![if !vml]>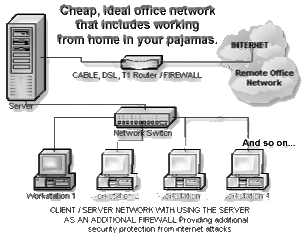 <![endif]>This Visio drawing is compliments of Eddie Nelson. 
Click here to see his illustration that includes the four most common office network configurations ~> Fast Loading (42k) ~ High Quality (134k)
---
The Company Software
http://www.TheCompanySoftware.com/
Sevierville, Tennessee
865-640-8837
All Rights Reserved 2006 ~ Reprint Only With Permission
This background color is called Money Green and the hexadecimal code is: #CCFFCC.